The NGO Tuna Forum brings together NGOs and other individuals and organizations that work comprehensively on global tuna sustainability issues that fall within one or more of the following core focus areas:
RFMO Management & Advocacy

Market-based Mechanisms for Improving Sustainability

On the Water Research, Activities and Improvements
NEW: 

Aligned Recommendations for RFMO Virtual Meetings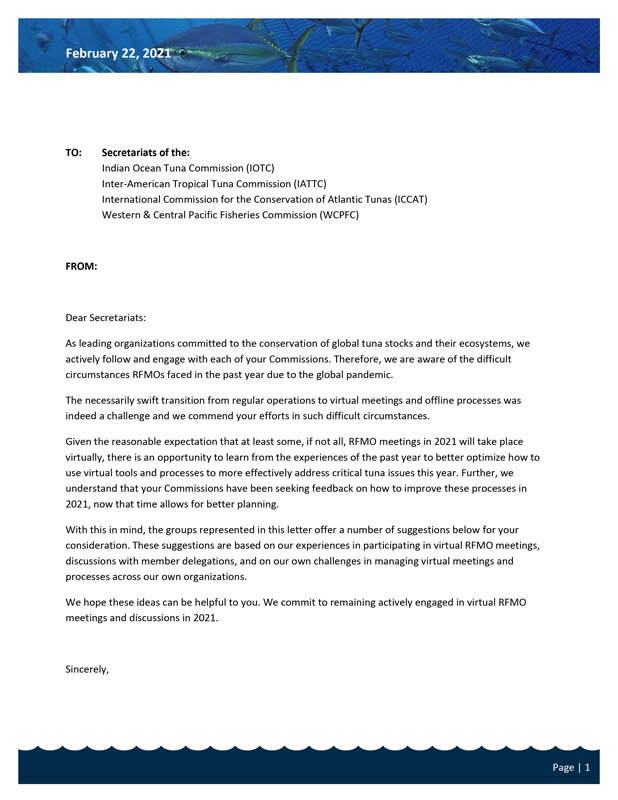 Leading NGOs focused on global tuna sustainability – and convened through the NGO Tuna Forum – have agreed on two sets of collective practices that, if fully implemented, would lead to well-managed FAD fisheries and well-managed at-sea transshipment.
Show your support for fully monitored industrial tuna fisheries by adding your organization to this statement of support because…
Unmonitored tuna fisheries are unacceptable.
In many tuna fisheries around the world, the lack of independent monitoring of fishing activity means there is much we cannot see – including many known conservation and compliance problems such as illegal fishing, misreported or unreported catch, and bycatch of endangered, threatened & protected species. What we can't see creates risk to fish stocks, to fisheries, and to companies that purchase tuna.
Regional Fisheries Management Organizations (RFMOs) have the power to reduce these risks by requiring 100% observer coverage – human and/or electronic – on industrial tuna fishing vessels. 100% observer coverage provides the means to mitigate the conservation and compliance issues that put tuna stocks, ocean ecosystems, and tuna supply chains at risk.
100% observer coverage can and must happen soon. There are no longer credible reasons to delay.
We are committed to working together to make 100% observer coverage a reality. Join us in support of 100% observer coverage requirements across all tuna RFMOs.
#unmonitoredunacceptable